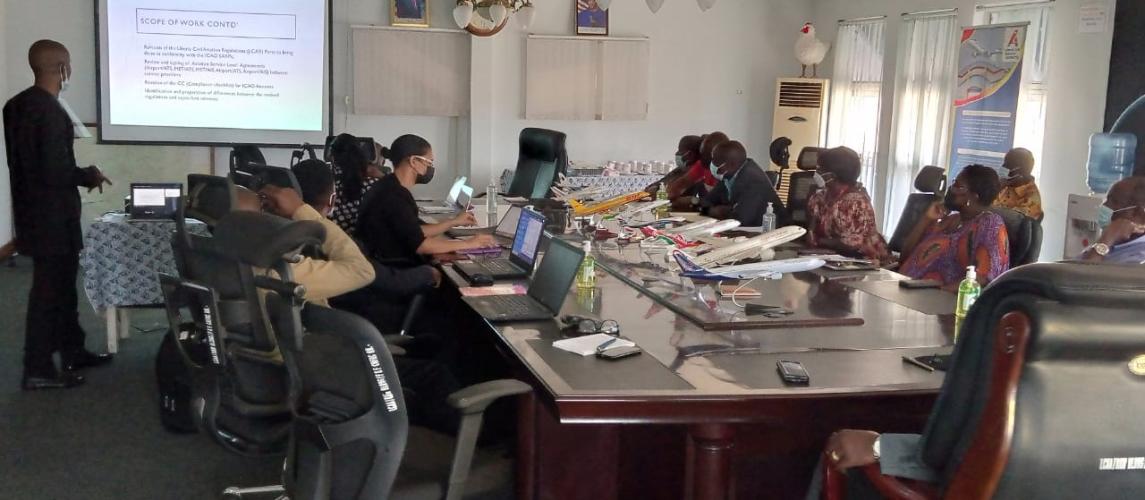 BAGASOO's Technical Mission to Assist Liberia Civil Aviation Authority Commences in Harbel
BAGASOO's Technical Mission to Assist Liberia Civil Aviation Authority Commences in Harbel
A six-member delegation from The Banjul Accord Group Aviation Safety Oversight Organization (BAGASOO) is in Liberia on a two-week mission to assist the Liberia Civil Aviation Authority (LCAA) in raising its current level of Effective Implementations from 18.4 percent by focusing on the first five critical elements of a state safety oversight system in the aviation industry.
At the formal opening session of the two-week assistance mission Monday February 28,2022, Chief Moses Y. Kollie, Director General of the Liberian Civil Aviation Authority, thanked the team on behalf of the Liberian government for their willingness and commitment to ensuring that Liberia's aviation sector meets all relevant international standards and fosters best practice in the industry. Director Kollie also assures the team that his authority will work to provide all necessary support to ensure that the purpose for which they have come to Liberia is fully realized and that Liberia is better prepared to face the pending International Civil Aviation Audit, which, if successfully passed, will put the Liberia Aviation sector on the map of other steps to broaden the sector's activities.
On behalf of the Executive Director at BAGASOO, the head of the delegation, Mr. Jacob Idaewor, Regional Technical Coordinator for Aerodromes, said that during their two weeks in Liberia, they will assist the Liberia Civil Aviation Authority in reviewing and updating the compliance checklist, State Aviation Activity Questionnaire (SAAQ), revision of the Civil Aviation Act and preparation of draft amendments to resolve identified concerns, and revision of the Procedure. He added that they will also assist in reviewing policy and procedure for the resolution of safety concerns and the granting of exemptions, revising the Liberia Civil Aviation Regulations (LCAR) Parts to bring them in line with the ICAO SARPs, reviewing and signing Aviation Service Level Agreements (Airport/ATS, MET/ATS, MET/AIS, Airport/ATS, Airport/AIS) between service providers, revising the Compliance checklist for ICAO Annexes among others.