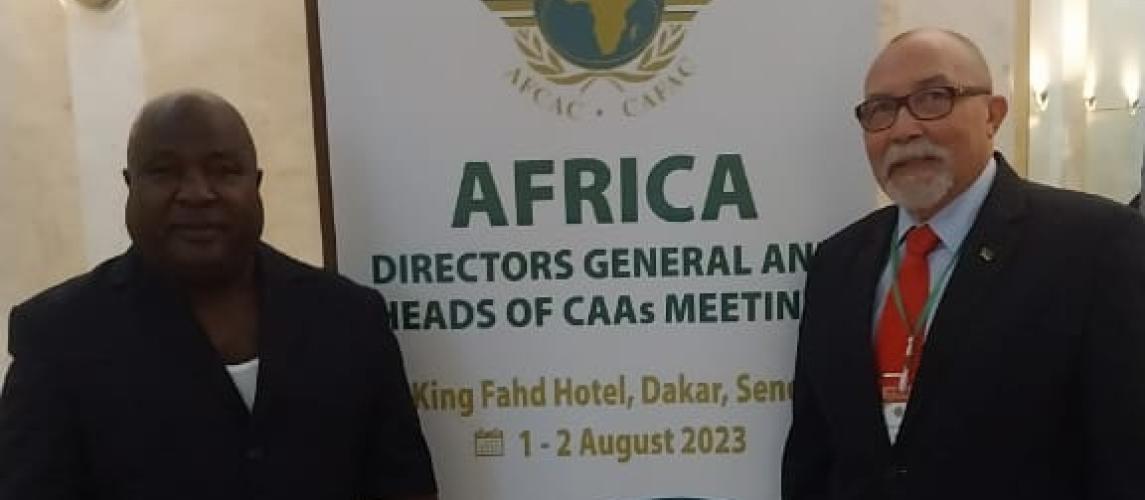 LCAA Acting Director General Hon. Mulbah concludes AFCA's Meeting in Darkar, Senegal
At the recently concluded High level meeting of Civil Aviation authorities in Africa, the Acting Director General of the Liberia Civil Aviation Authority, Hon. George Sylvester Mulbah, emphasized the importance of member countries prioritizing the issue of internship for those entering the industry so as to provide the opportunity to improve their skills in the sector.
According to Hon. Mulbah, having a skilled and competent staff in the industry is very crucial in order to have effective implementation of safety measures and international best practices on protocols in compliance with the International Civil Aviation Organization (ICAO).
African CAA Chiefs and Director Generals gathered for a two-day meeting of aviation stakeholders on August 1-2, 2023, in Dakar, Senegal.
At the meeting, participants discussed potential solutions to the problems plaguing Africa's civil aviation, such as the Significant Safety Concerns (SSC) uncovered by ICAO audits of several African countries, including Liberia. 
The leaders of thirty-two different African countries, according to a dispatch from Darkar, came to an agreement on five different thematic areas, including safe, secure, environmental issues, air transport, ratification of legal instruments by State parties, and membership contributions. 
As per the recently signed MOU in Monrovia and ratified by the Ministerial Council in Guinea, Liberia, Sierra Leone, and Guinea have asked the African Civil Aviation Commission (AFCAC) to submit their proforma to the Robert Flight Information Region for settlement on the issue of contribution. 
On the sidelines of the conference, Hon. Mulbah met with Nigeria's Civil Aviation Authority Head Hon. Musa Shuaibu Nuhu, who invited Liberia and other countries to participate in an upcoming Africa Aviation Submit in Abuja from September 13–14, 2023. It is hoped that the various CAAs would work together more effectively after this summit.
As the conference came to a close, Mr. Silas Udahemuka, the President of AFCAC and the Director General of Rawanda, commended the Liberian delegation for their contributions to the Plenary discussion, saying that they had "added further values" to the meeting's desired outcome and assuring them that the secondment of staff from Liberia's Air Navigation Service (ANS) would soon be completed.